GPS Online Vehicle Tracking System
Online vehicle tracking system facility eases the overall process of tracking system where users can check the introductory provisions of their automobile with a simple login. We provide web-based software service to get access from any laptop or PC screen, whereas smartphone users can also interact via the Najoom Al Thuraya application. 
Online accessibility is an effective and relaxed way for drivers and fleet managers to get reports of their automobiles in an all-in-one place. It doesn't matter whether you are in Sharjah or Dubai; all you need is our login accessibility to track the position of your automobiles across the UAE.
Like the advanced technology provision, we deliver the best vehicle tracking in UAE by automating end-to-end operations. The powerful software solution provides an eye-catching dashing board and tabs that allow users to utilize the built-in commands efficiently. Najoom Al Thuraya ensures complete conformance of customer service by establishing a reliable online vehicle tracking system. Some of the key features are described: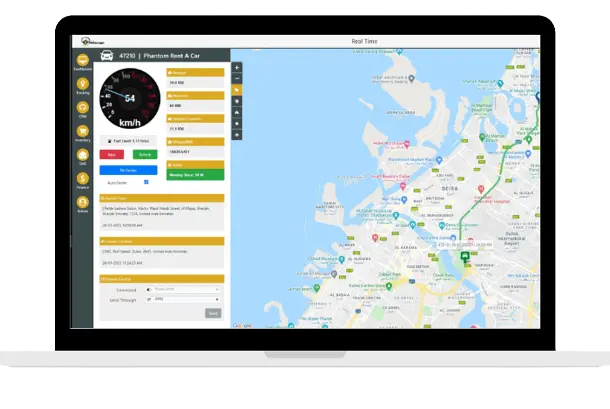 Real-time Tracking Updates
If you want real-time updates about your vehicles, you have all-in-one solutions to find the daily base schedules and data reports. You can customize notifications for today or yesterday according to your feasibility. Moreover, the frequency of schedules can be expanded to a weekly or daily basis along with the email receiving option.
Data History
Tracking data is kept in the form of reports that inform the user about the ongoing route, staying position, and non-reporting status from time to time. You can get the reports in PDF or Excel sheets with the complete description of the full ranges covered by the vehicle and the time and date. SMS alerts also help users to understand the continuous progress with time-to-time monitoring.
Map Navigation
Web tracking is integrated with Google Maps or an animated map version to check the position of vehicles concerning streets, main roads, staying places, housing, or less populated areas. A boundary of the whole country and each state is mentioned through a map where users can understand the area of range and traveled spots.
GPS Records
Vehicles and their complete movement are mentioned as objects so that users can check the traveling, staying, and non-reporting conditions. Time and date are described along with every single changed status that lets you inform briefly. Moreover, trackers are mentioned with the name and active state indications to identify the working efficiency.
Finances
You can check the basic financial requirements of the vehicle or fleet by paying the timely dues and maintenance expenses. Different expenditures are stated in the form of vouchers or service fees, providing you with tension-free interaction. Inventory management provides complete details of the various sales or marketing ranges to engage with business activities.