Driver Behavior Monitoring System
Revolutionize your fleet management with our advanced driver behavior monitoring system. Elevate safety, efficiency, and accountability with real-time insights!
Our Driver Behavior Monitoring System
Our vehicle tracking system utilizes advanced telematics to delve into the complexities of driving actions and habits. Fleet optimization isn't just about the destination but also about the journey, and our system ensures every mile is a testament to safety, efficiency, and excellence. With real-time insights and personalized feedback, empower your drivers to contribute to a culture of responsibility and operational excellence.
To stay ahead in the field of fleet management, it's not enough to simply track your vehicles. Najoom Al Thuraya understands the difficulties that impact operational efficiency, and safety is essential. Our Driver Behavior Monitoring System is a game-changer, offering an advanced approach to enhance efficiency and safety.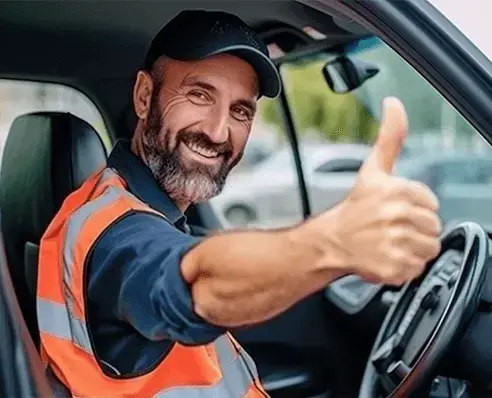 Key Features
Overspeed Alerts
Stay ahead of potential risks with our overspeed alerts. Receive real-time notifications when vehicles exceed predetermined speed limits, enabling proactive intervention to mitigate the dangers of excessive speed.
Emergency Alerts
Experience heightened safety with our accident alerts. Our advanced collision detection solutions promptly notify you in the unfortunate event of an accident, allowing for swift response and assistance.

Driver Surveillance
Implement a culture of responsibility and accountability through driver surveillance. Leverage real-time video monitoring to enhance driving behavior, safety, and compliance with industry regulations.
iButton
Simplify driving identification and streamline access control with our iButton and RFID Card integration. Enhance security measures by ensuring that only authorized personnel operate your fleet vehicles.
Benefits Tailored for You
Seamless Integration and Customization
Implementing our driver analysis system is a seamless process. We integrate state-of-the-art GPS tracker devices into your vehicles, providing a user-friendly software interface for comprehensive data analysis. Our approach allows for customization, ensuring monitoring parameters align with your business goals. Trust us to guide your fleet management requirements with accuracy and adaptability, offering car-tracking solutions that guarantee optimal outcomes.
Our Commitment
Our commitment goes beyond traditional tracking services. The driver behavior monitoring service we provide is a testament to our dedication to revolutionizing vehicle tracking. It's not just a service; it's a partnership that propels your fleet into a future where every journey is as important as the destination. With a focus on innovation and continuous improvement, we ensure your vehicle's safety, efficiency, and overall excellence. Join us on this transformative journey as we redefine tracking standards, placing your success and satisfaction at the forefront.